C-TECH HISTORY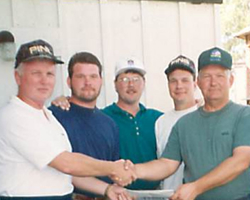 C-Tech Industrial Group, Inc. has a rich history and began as a general contracting company. In 1956 George A. Blackburn founded George A. Blackburn Construction, Inc. For twenty-two years this general contracting company served the refinery and petrochemical plant industries located in Midwestern Kansas.
In 1978 Ralph L. Austin purchased the assets of George A. Blackburn and formed Blackburn, Inc. Under Blackburn, Inc. the services, capabilities and client base were expanded to serve industries throughout the nation.
Nearly fourteen years later, Terry L. Clites, an original employee to both prior companies, formed today's Blackburn Construction, Inc. in 1992. Continuing with its expansion and commitment of delivering quality services, Blackburn Construction, Inc. became a part of the C-Tech Industrial Group, Inc.
Today, under the ownership and management of Terry's sons (Brian, Brad and Tracy Clites), the C-Tech Industrial Group includes Blackburn Construction, Inc, Blackburn Maintenance, Inc., ConFab Incorporated, and Industrial Insulation Services, Inc. With C-Tech's combined experience and rich history, these multifaceted companies have become industry leaders in providing fabrication, construction and maintenance of industrial and manufacturing facilities, primarily: Petrochemical, Chemical, Ethanol, Fertilizer, Petroleum Refining, and other related processes.
C-Tech Industrial Group, Inc. is a privately owned company with its corporate headquarters located in El Dorado, Kansas and serves a variety of clients and industries throughout the United States.